ACTIVATING SCALP RENEWAL WEEKLY TREATMENT
---
This powerful hair-revitalizing cream is designed to give a smoother, bouncier, and more luminous look to your hair.
By using lavender oil, coconut oil, biotin, and other nutrient-rich ingredients, Activating Scalp Renewal Weekly Treatment helps protect hair from thinning, breakage, and dryness. It's perfect if you're looking to:
Keep your hair looking strong and voluminous, even as you age
Support maximum smoothness, bounce, and shine in your hair
Maintain a healthy scalp and healthy hair follicles
Reduce the appearance of thinning hair or "patchy" spots
Mfg in USA / 90-Day Money Back Guarantee / GMP Certified Facility
Quantity
Retail Price:
Regular Price:
Ambassador Savings:
Subscriber Savings:
Subscriber Savings:
Free Shipping on all US Orders

Over $60
Add to Cart
Activating Scalp Renewal Weekly Treatment is a once-a-week formula designed to keep hair strong and healthy by providing deep hydration and nourishing your follicles. By rubbing this nutrient-rich cream into your scalp once a week, you can enjoy:
Stronger, shinier, and fuller-looking hair
Hair that's "shielded" from environmental toxins linked to hair loss and breakage
Reduced appearance of frizz, split ends, or "patchy" spots
Hair that feels thick, smooth, and deeply hydrated
Lasting moisturization, so your hair can look and feel youthful and voluminous
Every individual is unique. As such, your results may vary.
ACTIVATING SCALP RENEWAL WEEKLY TREATMENT IS INCREDIBLY EASY TO USE
This once-a-week formula was designed to be quick and simple for everyone — no matter your current hair care routine.
All you do is massage a quarter-size amount into your scalp once each week. It's specifically designed to help your hair feel stronger and thicker — and help make combing, styling, and protecting your strands easy and stress-free.
DR. GUNDRY'S 90-DAY MONEY BACK GUARANTEE
---
I take great pride in our products. We use only the best ingredients, and we proudly keep all of our manufacturing and customer service in the United States. We maintain the highest manufacturing standards in the industry, exceeding cGMP guidelines. As such, all of our products come with an industry-leading 90-day money-back guarantee. You can return your order for any reason. We will gladly refund your money, no questions asked. Your satisfaction is paramount to us.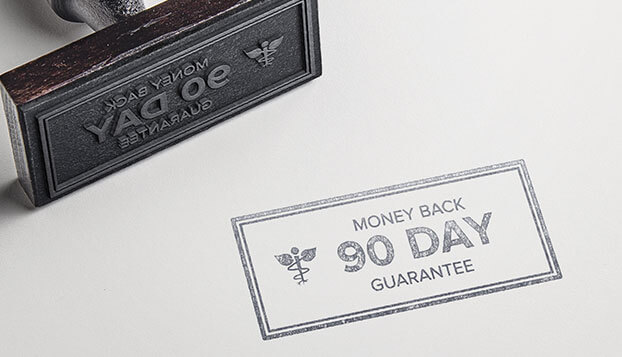 FREQUENTLY ASKED QUESTIONS
---
WHAT ARE THE INGREDIENTS IN THE ACTIVATING SCALP RENEWAL WEEKLY TREATMENT?
Water (Aqua), Cetearyl Alcohol, Behentrimonium Chloride, Glycerin, Polyquaternium-37, Acetl Tyrosine, Arcticum Majus Root Extract, Arginine, Biotin, C11-15 Pareth-7, Calcium Panthothenate, Cetrimonium Chloride, Citrulline, Cocos Nucifera (Coconut) Oil, Dicaprylyl Carbonate, Glucosamine HCI, Hydrolyzed Soy Protein, Lactic Acid, Lauryl Glucoside, Lavandula Angustifolia (Lavender) Oil, Menthoxypropanediol, Niacinamide, Ornithine HCI, Panax Ginseng Root Extract, Panthenol, PEG-12 Dimethicone, Polyquaternium-11, Propoxytetramethyl Piperdinyl Dimethicone, Trideceth-6, Zinc Gluconate, Ethylhexylglycerin, Phenoxyethanol
WHO SHOULD USE ACTIVATING SCALP RENEWAL WEEKLY TREATMENT?
Anyone who is troubled by dry, lackluster hair that doesn't "glow" or shine like it used to. This formula is designed to help you achieve (and keep!) shinier-looking, smoother-feeling, hydrated hair, at any age.
HOW DOES ACTIVATING SCALP RENEWAL WEEKLY TREATMENT WORK?
This potent formula uses natural hair-nourishing compounds specially chosen to support your scalp and hair follicles, helping your hair feel moisturized, shiny, and strong.
HOW DO I USE ACTIVATING SCALP RENEWAL WEEKLY TREATMENT?
Activating Scalp Renewal Weekly Treatment couldn't be easier to use!
Simply massage a quarter-sized amount into your scalp once per week to nourish your hair with nutrient-rich ingredients. You can use it on wet or dry hair.
HOW MANY BOTTLES SHOULD I ORDER?
The most popular order for new customers is the 2-bottle option. However, many of our longtime customers usually opt for the 3-bottle option, which gives you even greater opportunities to save, and stay "stocked up" — since this will likely become a weekly staple.
HOW SAFE IS ACTIVATING SCALP RENEWAL WEEKLY TREATMENT? ARE THERE ANY SIDE EFFECTS?
Activating Scalp Renewal Weekly Treatment was formulated with natural ingredients, specifically chosen to moisturize and nourish your hair. It should be effective and safe for weekly use for the vast majority of people.
WHEN CAN I EXPECT RESULTS?
Many users notice a distinct improvement in the look and feel of their hair within a few weeks of using Activating Scalp Renewal Weekly Treatment. And for many users, the most dramatic results were experienced with consistent use, over the course of 2-3 weeks.
WHAT IF ACTIVATING SCALP RENEWAL WEEKLY TREATMENT DOESN'T WORK FOR ME? IS THERE A GUARANTEE?
Of course! Now, I'm confident Activating Scalp Renewal Weekly Treatment will help your hair feel and look incredible… but I also understand everyone's hair chemistry is different. Because of this, a small number of people might find this formula doesn't give their hair the look they want.
That's why every single purchase of Activating Scalp Renewal Weekly Treatment comes with my personal 90-day guarantee. If, for any reason it does not offer you hair that feels moisturized, strong, and lively — just return what you haven't used within 90 days for a full, no-questions-asked refund.
Share your thoughts!
Let us know what you think...