Omega-3 fatty acids are absolutely essential to maintaining your heart, brain, joints, vision, and overall health. The only problem? Your body can't create all the Omega-3s it needs on its own — meaning you need to ingest through diet.
Advanced Plant Omegas provides a clean, effective, and easy source of Omega-3 fatty acids… along with powerful Omega-6s, -7s, and -9s too. And not only that — this formula also includes easy-to-absorb forms of Vitamin D and Vitamin E.
Simply take 2 easy-to-swallow softgel capsules each day to:
Maintain strong cardiovascular health
Support your brain, eyes, and joints
Experience enhanced overall health and wellbeing
Enjoy a powerful, plant-based alternative to fish or krill oil (which often contain mercury and other harmful substances)
Vegan, non-GMO, no added sugar, caffeine-free, and gluten-free
Quantity
Retail Price:
Regular Price:
Ambassador Savings:
Subscriber Savings:
Subscriber Savings:
Free Shipping on all US Orders

Over $60
Add to Cart
Take 2 softgels daily, preferably before a meal.
While the most traditional source of omega-3s is fatty fish, it turns out: Fish don't actually make omega-3s on their own!
Just like us, they have to get it from the foods they eat. So we traveled to the bottom of the food chain, and found that fatty fish acquire their high levels of omega-3s from algae.
So we went straight to the source.
Not only is algae a natural, plant-based alternative for getting your essential fatty acids, it's also an incredible source of DHA, EPA, and DPA — three of the most powerful Omega-3s your body can get. I consider DHA, EPA, and DPA to be some of my top three "heart health heroes," since they're incredible at keeping your blood sugar and blood pressure in a safe, healthy range.1,2,3
And with Essential Plant Omegas, you're not just getting Omega-3s. This formula also includes premium forms of Omegas-6, -7, and -9 from Sea Buckthorn Oil, plus easy-to-absorb forms of Vitamin D and Vitamin E.4
1 Dsm.com. (2019). The first vegetarian EPA/DHA alternative to fish oil. [online] Available at:
https://www.dsm.com/content/dam/dsm/foodandbeverages/en_US/documents/hnh/nutritional-lipids-white-paper.pdf [Accessed 28 September 2020].
2 Miller E, Kaur G, Larsen A, et al. A short-term n-3 DPA supplementation study in humans. Eur J Nutr. 2012;52(3):895-904. doi:10.1007/s00394-012-0396-3
3 Byelashov OA, Sinclair AJ, Kaur G. Dietary sources, current intakes, and nutritional role of omega-3 docosapentaenoic acid. Lipid Technol. 2015;27(4):79-82. doi:10.1002/lite.201500013
4 Li, T. (2019). Product Development of Sea Buckthorn. [online] Citeseerx.ist.psu.edu. Available at: https://www.hort.purdue.edu/newcrop/ncnu02/v5-393.html [Accessed 28 September 2020].
DR. GUNDRY'S 90-DAY MONEY BACK GUARANTEE
---
We here at Gundry MD™ work hard, every day, to deliver the most advanced, cutting-edge formulas on the market today, and I want to personally say: I'm proud of every single one of our formulas. Our 90-day guarantee is designed to allow you to achieve optimal results from your products, risk- and worry-free.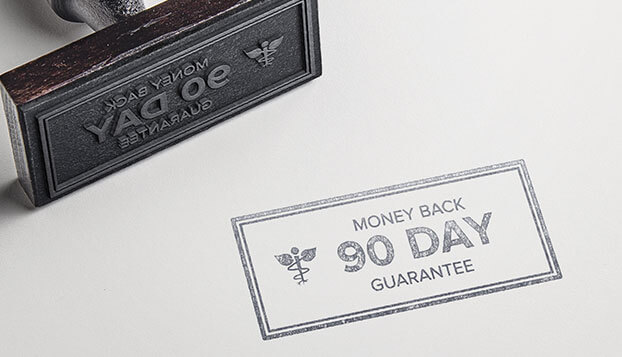 FREQUENTLY ASKED QUESTIONS
---
WHAT INGREDIENTS ARE INSIDE GUNDRY MD ADVANCED PLANT OMEGAS?
HOW MANY BOTTLES SHOULD I ORDER?
The most popular order for new customers is the 3-bottle package. However, many of our longtime customers prefer to opt for the 6-bottle option, which gives you the best price possible. That way, you can stay "stocked up" — and you don't have to go a day without Advanced Plant Omegas.
HOW PURE IS GUNDRY MD ADVANCED PLANT OMEGAS?
Gundry MD Advanced Plant Omegas contains only 100% high-quality ingredients. The formula is tested for quality and purity at an independent, 3rd-party facility. However, as a physician I recommend consulting with your own health care provider before beginning any new supplement, especially if you currently take prescription medication.
HOW DO I USE GUNDRY MD ADVANCED PLANT OMEGAS?
Using Gundry MD Advanced Plant Omegas is easy. Simply take 2 easy-to-swallow softgels with water, just before a meal. I suggest taking Advanced Plant Omegas with breakfast every day. It's a great way to make sure you get your day off to a strong start.
WHAT IF IT DOESN'T WORK FOR ME?
We're as proud of our industry-best customer support as we are of our groundbreaking supplements — so we back up every single one of our supplements with our 90-day customer satisfaction guarantee.
If you're not happy with your results for any reason, simply contact our customer support team within 90 days of purchasing your products, and we'll refund your purchase — no hassle, no worries.
Share your thoughts!
Let us know what you think...
* Every individual is unique. As such, your results can and will vary.