Bio Complete 3 is the complete gut health package. It contains a uniquely potent blend of premium probiotics, prebiotics, and a revolutionary new compound called postbiotics. This formula has been shown to improve your digestion, boost your metabolism, reduce cravings, and help you to enjoy the energy levels of someone years younger.
With Bio Complete 3 by your side, you can look forward to noticeable results like:
Excess weight — especially belly fat — finally becoming easier to lose
Fatigue being replaced by an ABUNDANCE of youthful energy
Digestive issues improving dramatically, or vanishing altogether
Cravings for unhealthy foods feeling like a distant memory
Manufactured in USA / 90-Day Money Back Guarantee / GMP Certified Facility
*All individuals are unique; as such, individual results will vary.
Quantity
Retail Price:
Regular Price:
Ambassador Savings:
Subscriber Savings:
Subscriber Savings:
Free Shipping on all US Orders

Over $60
Add to Cart
By selecting the "Subscribe" box above. You agree to receive "Vital Reds" once per month and that your credit card will be charged the amount matching your selected package size, billed to your card as "Gundry MD" You can stop shipments anytime by calling customer service at 800-255-4503, from 6am to 6pm PST (All terms and conditions apply).
I designed this unique 3-pronged blend of probiotics, prebiotics, and postbiotics to work together to give your gut a major boost. And once these specialized compounds get to work in your body, don't be surprised to see your digestion greatly improve… along with your energy levels, weight, and overall health.
Bio Complete 3 can help you enjoy:
A slimmer waistline
Smoother digestion
Easier, more regular bathroom visits
Reduced cravings for unhealthy "junk foods"
And even more energy
Every individual is unique. As such, your results may vary.
DR. GUNDRY'S 90-DAY MONEY BACK GUARANTEE
---
We work hard every day to deliver the most advanced, cutting-edge formulas on the market today, and I want to personally say: I'm proud of every single one of our formulas. Our 90-day guarantee is designed to allow you to achieve optimal results from your products, risk and worry free.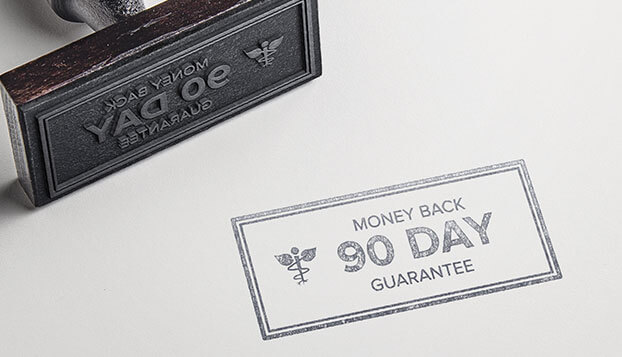 FREQUENTLY ASKED QUESTIONS
---
WHAT ARE THE INGREDIENTS IN GUNDRY MD™ BIO COMPLETE 3?
HOW SAFE IS GUNDRY MD™ BIO COMPLETE 3?
Gundry MD™ Bio Complete 3 contains only safe, all-natural ingredients. The formula is tested for quality and purity at an independent, 3rd-party facility. However, as a physician, I recommend consulting with your own health care provider before beginning any new program.
HOW DO I USE GUNDRY MD™ BIO COMPLETE 3?
Simply take two small capsules twice per day, preferably before a meal. Bio Complete 3 has been formulated to be ultra-fast absorbing — so it can go right to work safeguarding your gut — resulting in a boost in energy and health you can truly feel.
It's important to take your Bio Complete 3 every day on a consistent basis. I take mine every morning before breakfast and again before dinner. This way, my gut is protected 24/7.
HOW DOES GUNDRY MD™ BIO COMPLETE 3 WORK?
Bio Complete 3 works to support easier digestion, better weight management, more energy, less cravings, and improved muscle strength by using what I call the "3-Pronged Defense" to gut health:
Boost your probiotic levels, so you have an abundance of good gut bacteria
Boost your prebiotic levels, so your good gut bacteria have the proper fuel to thrive
Boost butyrate (a.k.a. postbiotic) levels, so you can achieve an "ironclad" gut lining (and help alleviate symptoms of "leaky gut," like low energy and cravings for unhealthy food)
WHAT IF IT DOESN'T WORK FOR ME? IS THERE A GUARANTEE?
As a physician, I know that individual bodies can react differently to the very same compounds. Even though everyone can benefit from the powerful probiotics, prebiotics, and butyrate — known in the medical community as a "postbiotic" — in this formula, I'm aware that results can vary. So, if you're unsatisfied with this product for any reason whatsoever after a full 90 days of use, I'll return your money, hassle-free… guaranteed.
WHEN CAN I EXPECT RESULTS?
Most users report feeling noticeably smoother digestion, less cravings, along with an increase in energy, vitality, and muscle strength on their first day of use… usually within the first few hours. However, the most dramatic results were reported after consistent use over the course of 4 weeks and beyond. Please use as directed.
Share your thoughts!
Let us know what you think...