This delicious, refreshing tea is more than just a great start to any meal — it's a powerful digestive and weight loss tool, as well. Made from a powerful blend of 5 potent natural compounds… this caffeine-free formula is designed to be enjoyed before each meal, to ensure comfortable, easy digestion, no matter what's on your plate.
Herbal Vitality is easy to make — you simply brew it like you would any tea bag, and serve hot or over ice. For best results, enjoy Herbal Vitality 30 minutes before mealtime, so our 5 powerful health-supporting ingredients have time to go to work for you.
Loaded with natural ingredients designed to support easy, regular digestion
Supports a strong, balanced gut so your "good" gut bugs can thrive
Designed to make it easier to slim down, stay fit, and meet your weight goals
Helps promote feelings of satiety, so you're less prone to unwanted cravings
MFG in the USA/ Caffeine Free/ GMP-Certified Facility
Quantity
Retail Price:
Regular Price:
Savings:
Subscriber Savings:
Subscriber Savings:
Free Shipping
Add to Cart
Herbal Vitality is not your average tea. When taken before a meal, it allows you to feel satisfied and full without eating as many calories. It can also help soothe all sorts of digestive woes — from bloating to indigestion. This unique tea combines 5 dynamically effective, all-natural ingredients to help you reclaim the digestion and figure you deserve.
Gundry MD Herbal Vitality is perfect for anyone who wants to experience:
The ability to feel fuller faster at breakfast, lunch, and dinner
REAL relief from "after meal" digestive discomfort
The peace of mind knowing you can still enjoy your favorite foods
The confidence boost that comes with a body you love
Every individual is unique. As such, your results may vary.
WHY GUNDRY MD™ HERBAL VITALITY?
There's nothing like a delicious, soothing cup of steaming hot tea to set the tone for a meal — and by adding Herbal Vitality to your daily routine, you're making an enjoyable commitment to a slimmer-looking body, and more comfortable, efficient digestion, no matter what you eat.
That remarkable difference is all thanks to 5 powerful, all-natural ingredients in this delicious tea. The best part is, each one packs a punch — and when you use them together, the results are magnified.
Perhaps the most remarkable of the 5 ingredients in Herbal Vitality is:
BioEcolians® a-gluco-ogliosaccharide
This potent compound works with your gut in 2 ways to help you support a digestive balance, and to help you reach that goal weight.
A Probiotic booster: BioEcolians supports the growth of certain beneficial probiotic strains such as Lactobacillus and Bifidobacterium, to help them thrive in your gut.
A slimming active: A study showed that BioEcolians could help stimulate and support weight loss. How? By boosting AMPK activity in your body (that's an enzyme that helps your body decide whether to use food as energy or store it as fat).1And increasing AMPK activity could lead to things like less frustrating abdominal fat, a slimmer body, and even a reduction in feelings of hunger.
Now, BioEcolians® a-gluco-ogliosaccharide is incredibly powerful ALL on its own. But it's also important to note the significant health-promoting powers that EACH of the other 4 compounds in this tea:
Peppermint Leaf — not only does the peppermint leaf in this tea add a refreshing, fresh flavor, but peppermint leaf is thought to work wonders on your digestive system.
That's because peppermint can actually soothe the muscles in your gut and keep them from contracting.2 And when your stomach is calm, you're less likely to suffer from uncomfortable cramps, no matter what foods you eat.
Ginger Root — ginger has been used to manage nausea for centuries — and if you ever suffer from queasiness, it could help.3 But ginger proves beneficial to your health, even if you don't suffer from occasional nausea.
That's because ginger is also shown to promote easy, efficient digestion, to keep you regular, comfortable, and free from uncomfortable bloating and gas.
And it does more than ease digestion, too. You see, gingerol — the powerful compound in ginger that gives it its signature zip — is shown to help people reach (or maintain) a healthy body weight.4
Marshmallow Root —Marshmallow root contains mucilage, a gel-like substance that becomes slippery when wet. Mucilage coats both the digestive tract, helping soothe irritation and protect your gut lining — it's a great defense against leaky gut.5
And when your gut is strong and supported, your digestive system can thrive. Furthermore, having a healthy gut means your immune system will flourish, your "good" gut bugs will grow strong.
Bay Leaf —  Bay leaves have a very strong effect on the gastrointestinal system, Furthermore, the organic compounds found in bay leaves are very effective for settling upset stomachs and soothing uncomfortable digestion.
And if all that weren't enough, starting your meal with a nice cup of tea could promote feelings of satiety — so you're more satisfied from your meals, and less prone to overeating.
DR. GUNDRY'S 90-DAY MONEY BACK GUARANTEE
---
We here at Gundry MD™ work hard, every day, to deliver the most advanced, cutting-edge formulas on the market today, and I want to personally say: I'm proud of every single one of our formulas. Our 90-day guarantee is designed to allow you to achieve optimal results from your products, risk- and worry-free.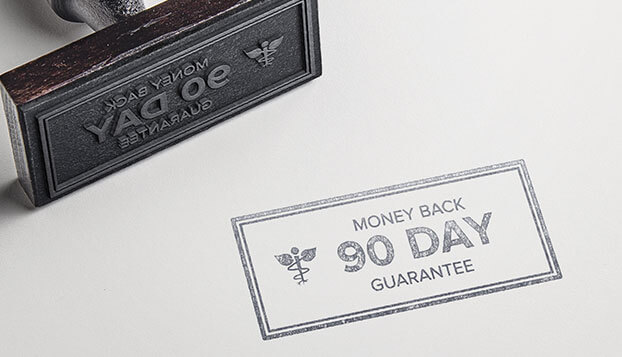 FREQUENTLY ASKED QUESTIONS
---
WHAT ARE THE INGREDIENTS IN GUNDRYMD™ HERBAL VITALITY?
HOW MANY PACKAGES SHOULD I ORDER?
The most popular order for new customers is the 3-package option. However, many of our longtime customers usually opt for the 6-package option, which gives you even greater opportunities to save.
HOW SAFE IS GUNDRY MD™ HERBAL VITALITY? ARE THERE ANY SIDE EFFECTS?
Gundry MD Herbal Vitality was formulated for maximum all-natural purity. It should be effective and safe for daily use for the vast majority of people. Of course, I recommend consulting with your physician before using any supplement, including Gundry MD Herbal Vitality.
HOW DO I USE IS GUNDRY MD™ HERBAL VITALITY?
Gundry MD Herbal Vitality comes formulated in safe, easy-to-use bags of tea. For maximum effectiveness, I recommend steeping the tea bag in 8 fluid ounces of water once per day, before your biggest meal.
WHEN CAN I EXPECT RESULTS?
Many users report a distinct improvement in digestive health within just a few days of first taking Gundry MD Herbal Vitality. However, for many users, the most dramatic results were first noticed over the course of 2-3 weeks. Please use as directed.
WHAT IF HERBAL VITALITY DOESN'T WORK FOR ME? IS THERE A GUARANTEE?
I'm confident Gundry MD Herbal Vitality will offer you the powerful support your gut needs for REAL relief. But I also understand no two people's systems work the same way, so a small number of people might find Herbal Vitality does not give them the benefits they need.
That's why each bag of Herbal Vitality comes with my personal 90-day guarantee. If, for any reason, Gundry MD Herbal Vitality does not offer you comprehensive digestive health support or a slimmer-feeling waist — just return what you haven't used within that time for a full, no-questions-asked refund.
Share your thoughts!
Let us know what you think...