Gundry MD Olive Oil takes the benefits of this traditional food — a healthy heart, smoother skin, stronger muscles — and makes them even better. This organic, extra virgin olive oil is supercharged with 30x more polyphenols than conventional olive oil, helping to:
Promote healthy arteries and great blood flow

1

Support crystal-clear concentration

2

Soothe worn-down joints and tired muscles

3

Make skin feel softer and more hydrated

4

Give your immune system a boost

5
Plus, Gundry MD Olive Oil is delicious!
Quantity
Retail Price:
Regular Price:
Ambassador Savings:
Subscriber Savings:
Subscriber Savings:
Free Shipping on all US Orders

Over $60
Add to Cart
We cultivate our olive trees in the dry desert terrain of Morocco. This tough environment forces the trees into "survival mode," and naturally increases the amount of polyphenols in their olive oil.
And the more polyphenols you have in your system, the better you feel inside and out. Try Gundry MD Olive Oil if you'd like:
Supported cholesterol levels

Improved weight management

Boosted immune function, for fewer "sick days"

Sharper concentration and all-day focus
Supported cholesterol levels
Improved weight management
Boosted immune function, for fewer "sick days"
Sharper concentration and all-day focus
GUNDRY MD OLIVE OIL VS. THE OTHER GUYS
---
I designed Gundry MD Olive Oil because I wanted to take the powerful antioxidant effects of regular olive oil… and kick them up a notch.
Gundry MD Olive Oil contains hydroxytyrosol — a naturally occurring polyphenol that neutralizes free radicals, unlike anything we've ever seen at the Gundry MD lab.
And since our olive trees are grown in a harsh desert environment, this triggers a "nutrient surge" that gives our olive oil 30x more polyphenols than conventional brands.6
This means Gundry MD Olive Oil gives you exponentially more protection from energy-zapping toxins that make you feel tired and weak.
And since we adhere to strict extraction and refinement processes — Gundry MD Olive Oil is absolutely delicious.
So, how can you use this olive oil? Well, I like to just drink a "shot" of it each day, and I suggest you do the same. But I understand — the peppery flavor isn't for everyone, so I've put together a few other ways for you to enjoy this powerful, flavorful olive oil — and all it's fantastic health benefits, too.
Use it as a "finishing oil" on your favorite foods: You know how even the simplest foods feel a little more "special" at a restaurant?  That's because they're likely drizzled with a little bit of oil — it actually enhances the flavors in food. Accent sauteed greens, scrambled eggs, even that piece of grilled salmon — just make sure to drizzle it on your food after cooking.
Make a salad dressing with it: One great way to "tone down" the oil's peppery flavor is to counter-balance it with high-quality balsamic vinegar.  Make your own DELICIOUS balsamic vinaigrette using one part Gundry MD Polyphenol-Rich Olive Oil, one part balsamic vinegar, a pinch of sea salt, and a teaspoon of dijon mustard — it's great on ANY salad.
Blend it into a smoothie: I know it sounds funny, but it's great blended into a smoothie — especially a chocolate flavored smoothie (like Gundry MD ProPlant). Believe it or not, chocolate and olive oil is a classic combination, so go ahead and combine it with your favorite lectin-free chocolate smoothie recipe, and enjoy.
Use it in pesto:  This classic Italian sauce is great tossed with lectin-free pasta, or used as a sauce on grilled meats, veggies, or even on top of a salad. To make it, combine a half cup of basil or parsley, ¼ cup of toasted pine nuts, ¼ cup of grated parmesan, a garlic clove, and about ¼ cup of Gundry MD Polyphenol- Rich Olive Oil in the food processor or blender. Then, store it in the fridge or freezer.
No matter how you choose to take your olive oil — just remember what I always say: The point of food is to get olive oil in your mouth.
And Gundry MD Olive Oil doesn't just make food taste incredible… it helps you feel incredible, too.
FREQUENTLY ASKED QUESTIONS
---
Is Gundry MD Olive Oil safe?
Absolutely. Gundry MD Olive Oil is sourced, cultivated, and extracted according to industry safety and purity standards. It contains no artificial ingredients and is tested for quality at an independent, 3rd-party facility.
What makes Gundry MD Olive Oil better than regular olive oil?
Gundry MD Olive Oil comes from the harsh desert environment of Morocco. This arid climate helps grow some of the strongest olive trees on the planet. You see, the limited supply of resources force the olive trees to go into "survival mode." They produce extra polyphenols to protect themselves… which means with Gundry MD Olive Oil, you can enjoy 30x more antioxidant power, and it tastes amazing.
What if I don't like it? Is there a guarantee?
Of course. Even though everyone can benefit from the power of polyphenols, I understand individuals react differently to the very same compounds. So, if you're unsatisfied with this product for any reason whatsoever after a full 90-days of use — simply return your empty bottles and I'll return your money. Guaranteed.
CITATIONS
---
1 Fitó M, Cladellas M, Torre R, Martí J, Muñoz D, Schröder H. Anti- inflammatory effect of virgin olive oil in stable coronary disease patients: a randomized, crossover, controlled trial. Eur J Clin Nutr 2007;62:570-4.
2 Martínez-Lapiscina EH., et al. Mediterranean diet improves cognition: the PREDIMED-NAVARRA randomised trial. J Neurol Neurosurg Psychiatry. 2013 Dec;84(12):1318-25. doi: 10.1136/jnnp-2012-304792. Epub 2013 May 13.
3 Ghanam Jamal, Laaboudi W and Benlemlih M. Effects of Rich Polyphenols Olive Tree Extract On Inflammation and Pain in Patients with Rheumatoid Arthritis: A 8-weeks Randomized, Double-Blind Placebo-Controlled Clinical Trial. Ghanam J et al. / American Journal of Biological and Pharmaceutical Research. 2015;2(2):51-61.
4 Purba, Martalena br et al. "Skin Wrinkling: Can Food Make A Difference?". Journal Of The American College Of Nutrition. vol 20, no. 1, 2001, pp. 71-80. Informa UK Limited, doi:10.1080/07315724.2001.10719017.
5 Puertollano MA., et al. Olive oil, immune system and infection. Nutr Hosp. 2010 Jan-Feb;25(1):1-8.
6 Hrncirik, K. and Fritsche, S. 2004. Comparability and reliability of different techniques for the determination of phenolic compounds in virgin olive oil. Eur. J. Lipid Sci. Technol. 106: 540–549.
DR. GUNDRY'S 90-DAY MONEY BACK GUARANTEE
---
We here at Gundry MD™ work hard, every day, to deliver the most advanced, cutting-edge formulas on the market today, and I want to personally say: I'm proud of every single one of our formulas. Our 90-day guarantee is designed to allow you to achieve optimal results from your products, risk- and worry-free.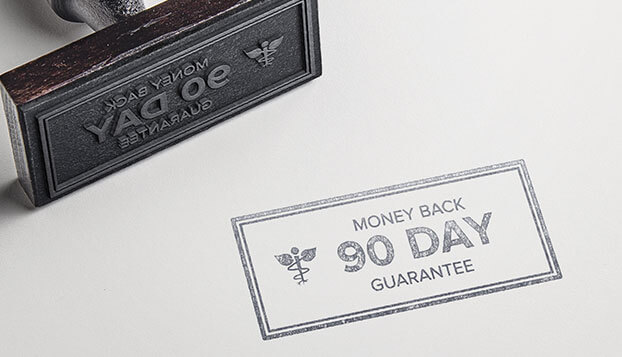 INGREDIENTS
---
Product of Morocco
Share your thoughts!
Let us know what you think...